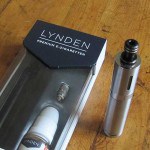 This post is also available in:

Deutsch (German)

Français (French)

Español (Spanish)

Português (Portuguese (Portugal))

Italiano (Italian)

Nederlands (Dutch)

polski (Polish)

Русский (Russian)
How many beginners did I start with the EVOD once: no bad steam, but comparatively weak compared to the VPlum, which I switched to after some time. It basically looks like an EVOD, but it's bigger, stronger and controllable, so it makes more or less steam. I'm happy with it, but I always like to try something new – for example the "Low Ohm Steam", which has been so popular for some time now, which I could test with a chic little steam: the LYNDEN NOW, which looks a bit used in my photo: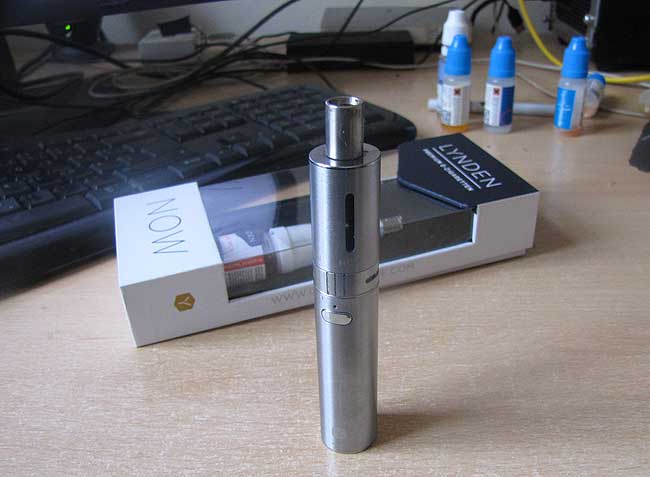 My interest in the technology of an e-cigarette or steam keeps within very narrow limits, that's what I say! But of course I don't want to withhold the basic data of this complete set from you: The steam brings 30 Watt output, has a 510er thread and a 2 ml Liquid tank with 0.5 Ohm evaporator head. A spare evaporator head as well as a USB charger are also included and even 10 ml Liquid (Red USA Mix) for the start. So everything you need to get started.
I find the optics quite chic! The small part is only 11.3 centimeters long with a diameter of 19mm with its original Drip Tip. So much power just needs a certain thickness, I think. It also doesn't bother you at all, but lies quite well in your hand (fits in your trouser pocket, for those who like it that way).
Because the steel drip-tip has too big an opening for my taste, I replaced it with another one – it also looks really good: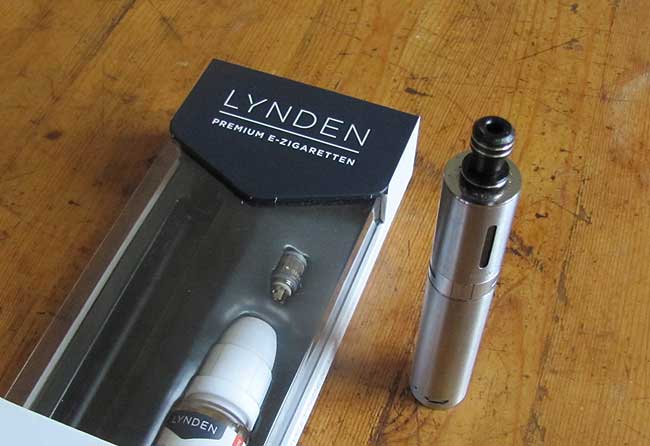 Many power, steam and air control
When I first moved to the Lynden, I thought: a horse would kick me in the lungs! Ok, that's an exaggeration, but compared to everything I've steamed before, it was quite violent at first. The 30 watts are obviously not in vain! You can, as I noticed then, make the steam experience a bit softer: a rotating ring regulates the air supply, with a different setting it was a bit more pleasant. With an alternative drip tip I narrowed the steam output, and I switched to my popular menthoid Liquids – the supplied liquid was too scratchy for me. Meanwhile the Lynden has a place with me as "second steam" – if I want to raise my felt Niko mirror a little faster, the part is quite effective. (Update: I have left that soon again, SubOhm/Hochwatt is simply not my thing! I'd rather steam in between briefly with 18mg)
It's quite pleasant that you can reduce the real nicotine content of the liquids significantly, because the "strong" steam experience doesn't need so much nicotine flash. However, 30 watts more liquid also drink away, so that the end result is the same.
It should also be remembered that this type of steam generator is more suitable for "pulling directly into the lungs" and not for "steaming on the cheek". Since I have always been a baking steamer, neither the LYNDEN NOW nor a comparable appliance will ever become my permanent steamer. I also find the great steam development praised by many not only positive in itself: outside I like to steam very inconspicuously, i.e. low in steam. Because what makes a great impression under steamers, non-smokers probably don't like at all, so it's not a good advertisement for the harmlessness of steaming.
Home advantage: If you steam at home, you can in principle let the LYNDEN NOW hang on the PC via a USB charging cable and steam unlimitedly thanks to the mini-USB input on the side of the steam. A user has told me this, but I can't judge how good or bad it is for the battery.
My low impedance conclusion
"A new dimension of steaming" – I had read such sentences about the recently so popular Niederohm steam. And yes: it's different from anything I've tried before, but I'm wondering: do you really need 30 watts? After all – apart from the steam itself – this power has the additional benefit that the steam gets quite warm (but not hot!). If you want to steam outside in the winter cold, you have a hand warmer!

The low ohm or subohm steam originates from the self-winding scene and is in itself a somewhat explosive technique that demands a lot from the components used. As I said, I am a technical layman and not interested in learning anything new here. So you should definitely research "Low Ohm Steaming" and "Subohm Steaming" to find out more about this technique! After all, entry-level devices like the LYNDEN are meant to offer such a "Subohm Steaming Experience" even to inexperienced people who don't feel like dealing with the technical details of the components.
Summary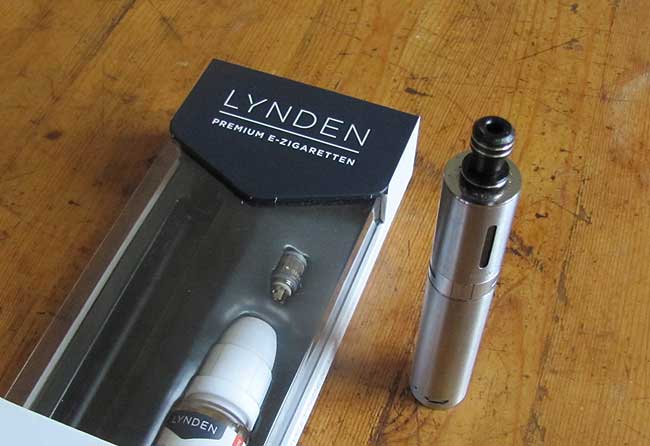 Article Name
Experiences with low ohmic steaming
Description
The low ohmic or sub ohmic steam originates from the self-winding scene and is an explosive technique that demands a lot from the components used.
Author
Publisher Name
Publisher Logo