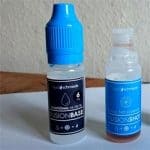 This post is also available in:

Deutsch (German)

Français (French)

Español (Spanish)

Português (Portuguese (Portugal))

Italiano (Italian)

Nederlands (Dutch)

polski (Polish)

Русский (Russian)
First of all on the legal situation: As of 20 May 2017 there will only be 10 ml bottles due to the unspeakable regulation by TPD2 Liquid. This also applies to the so-called "Base", i.e. the nicotine-containing PG or PG/VG mixture, which only results in a steamable liquid when flavorings are added. For self-mixers who have not stored any supplies, (gebunkert )mixing will therefore be significantly more expensive to pointless, as the macimum nicotine content is also limited to 20 mg in the 10 ml vials that will still be permitted in future.
Another blatant regulation affects liquid traders: in future, all Liquids must be registered six months before the start of sales! This is of course catastrophic for the variety of available liquids, because the registration procedure costs money and time, innovations are slowed down.
Flavours instead of liquids – a good idea!
The liquid forge could not have continued its business model under these circumstances, because there you could configure your liquid yourself. Impossible to wait 6 months until the individual liquid is approved! So they changed their system: Liquids are no longer sold at all, but so-called "Aroma Shots": aromas and aroma blends, which – like the Liquids up to now – can also be put together individually. In addition, there are well-known base mixtures in four variants that have been known, registered and approved for a long time. They are available in 10 ml vials with space for the aroma shoot. Fits!
Philgood explains the system here:
Recently I tried it myself and found it quite ingenious! I already tried to mix it myself and added a few flavours. But then I always have to make liquid and let it "ripen" before I can even test whether the liquid tastes good to me with this aroma. Since I didn't want to knock countless unsuccessful attempts into the barrel, I stopped doing so for the time being. Anyone who also steams tobacco liquids knows the extensive search for the right liquid or aroma – and you always want to try something new or other mixtures.
The liquid forge system gives me access to all imaginable flavours and mixtures without having to buy far too large quantities of flavours, which I don't even need because they don't taste good to me. It saves me the trouble of trying out the wrong flavours or minimises them to the smallest possible test quantity. So far everything is super! The handling is totally simple, you pour the aroma into the bottle with the base, done. Or vice versa, as Philgood advises, in order to get the last remaining aroma that could stick to the walls. Then shake and let it mature for a few days – that's how I do it, at the "maturing time" there are of course very different opinions, which also differ from aroma to aroma.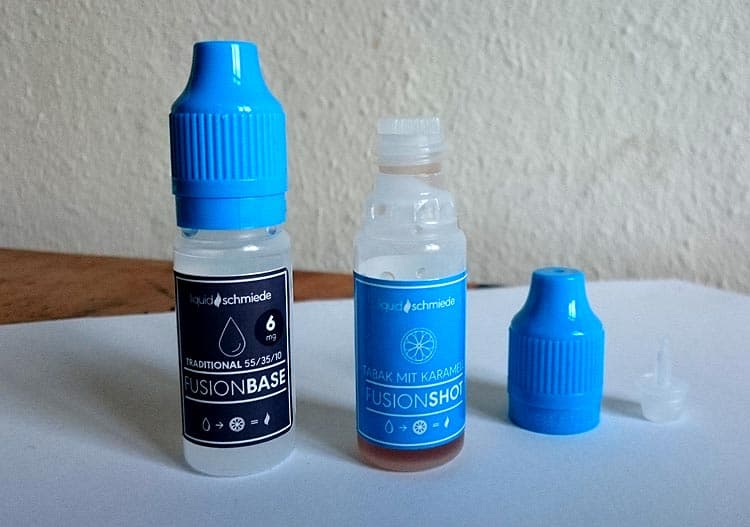 But I still have one criticism in the matter of Liquidschmiede: With the design of the webshop I try to leave the customers in the dark about the fact that you can buy the Fusion-Shots WITHOUT the (supposed) corresponding bottle with base. Next to each article there is a button "Choose base" – not "add to shopping cart" or the like. If you click on it, you will land on a page with selectable bases. At the very bottom of this page you will find the link "only FusionShot into the shopping cart".
With my first order I ordered the – for Base quite expensive – PG/VG/N bottles, because I wanted to see how it works – and also as a "thank you" to the Liquidschmiede for the innovative system. But I won't do that again, the FusionShots aren't cheap either!
Summary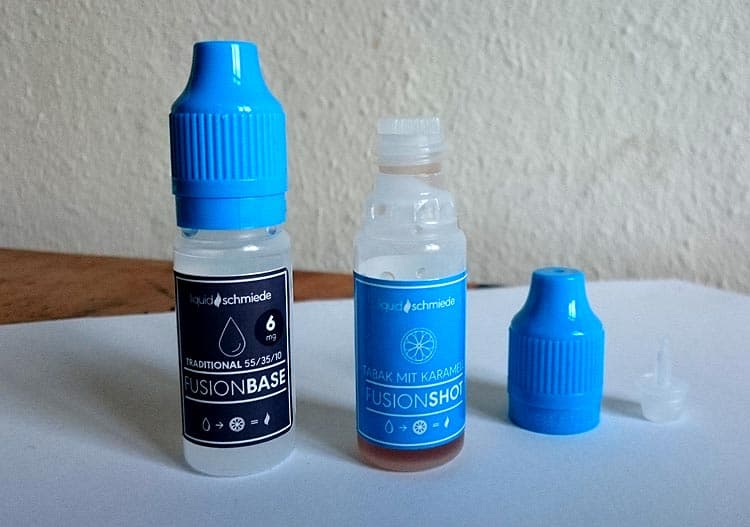 Article Name
New mixing system at the liquid forge - tried and tested
Description
Flavors and flavor mixtures that can be individually put together - as was previously the case with the Liquids. In addition, there are well-known base blends in four variants
Author
Publisher Name
Publisher Logo