This post is also available in:

Deutsch (German)

Français (French)

Español (Spanish)

Português (Portuguese (Portugal))

Italiano (Italian)

Nederlands (Dutch)

polski (Polish)

Русский (Russian)
Once again I had the opportunity to test an interesting new steam: the LYNDEN AIR – a controlled Subohm "steam engine" developed in Berlin, which at first sight has something amazing about it, and on the second one delights with innovative details which one wishes to see more widespread!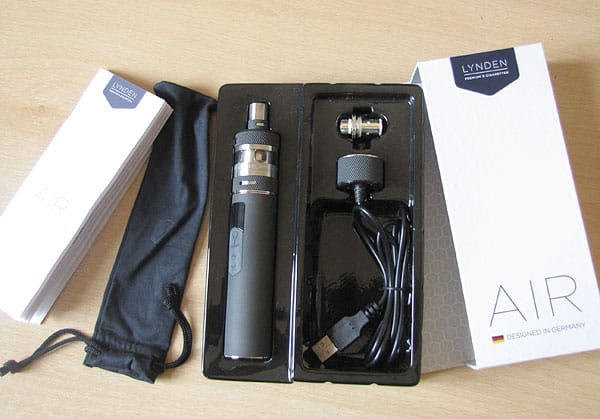 I find it astonishing that the part with a strong 27 mm diameter and 152 mm length (incl. drip tip) on the one hand looks massive, but still elegant. The LYNDEN also lies well in the hand as soon as you get used to the weight of approx. 200g (weighed with Liquid on the kitchen scale). The haptic is great and because of the thickness the LYNDEN AIR stands like a one on the desk – for me clearly a "home steam", no device for on the way, where I use smaller or slimmer E-Ziggis with rather dainty hands. The design – yes, for me appearance comes before technology! – I find it very successful, a harmonious mixture of anthracite-coloured rubberized Soft Touch surface and stainless steel, which makes the steam an eye-catcher.
What I don't find so great – not only with this one, but with many low ohm steamers – is this drip tip in the style of a "short open tube" with a much larger diameter than the mouthpieces I usually use. But this is inevitably connected with low ohmic steaming, I once read that one would burn one's lips with narrow plastic parts at high watt numbers (who knows more about this, please explain in the comments!).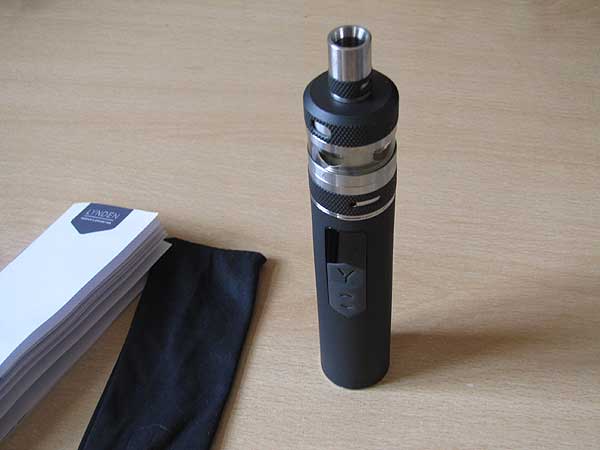 In terms of technical features, the LYNDEN AIR offers both temperature control (150 – 315° C) and variable watts (5 – 40 W). It can be completely dismantled and is very easy to use, even for technology muffles like me.
Included in delivery:
1 LYNDEN AIR ACCUATOR (1900 mAh)
1 LYNDEN AIR TANK with 0.5 Ohm Nickel-Chromium OCC evaporator
1 0.5 Ohm Nickel-Chromium OCC Replacement Evaporator
1 Magnet USB charger
1 LYNDEN AIR POCKET fabric bag
1 German operating instructions
The security features are also impressive: After 10 seconds of pulling, the LYNDEN AIR switches off automatically, as does a resistance below 0.12 Ohm (how deep can you actually get?). Well, I don't really know about that…), in addition there is the deep discharge protection, as well as short-circuit protection and overvoltage protection. Not safety, but control brings a short vibration alarm after 12 trains – so you can estimate its consumption compared to the "Pyro" quite well.
Innovative feature: filling
The designers of the LYNDEN AIR had a really good idea when it came to liquid filling: You turn a ring at the upper edge of the steam and fill the liquid through an opening, which is then closed again by turning the ring again. Ingenious! No more strangling to aim the liquid spout between the wall and the evaporator head – great! However, you have to be careful that you don't open the tank with the ring – then of course it will suppt out, which probably results from the "complete dismantlability".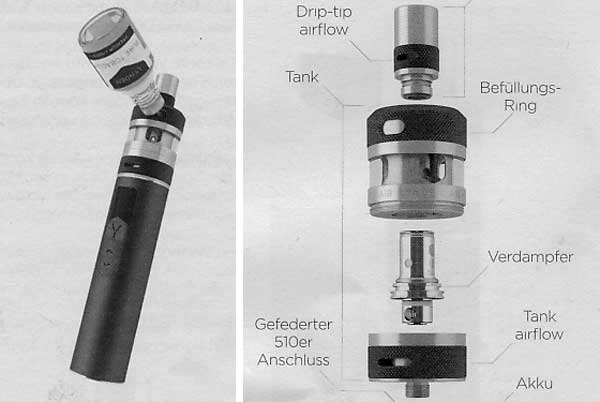 Magnetic charger, Air-Control
The charging of the LYNDEN AIR is very elegant, because at the other end of the USB charging cable is not the usual twist thread, but a magnetic contact, which you simply "click" – super convenient! The steam can also be used during 3 to 4 hours of charging. However, it would have been more practical to let the cable run out sideways and not on the floor. Then you could also put them down!

The air supply can be regulated with the stepless Airflow Control in two places, at the Base and at the drip tip. This is also a nice thing, as you can also influence the temperature of the steam a little.
TPD2 compliant? Suitable for beginners?
The LYNDEN AIR is called TPD2-compliant, i.e. it should meet the requirements of the European Tobacco Product Directive, which will come into force in May 2016. This also explains the "only" 2 ml liquid tank, which some users consider to be too small. I don't see it that way, because filling it is easy. (What the TPD2, transposed into national law, means for the e-cigarette from May onwards, is summarized in a Artikel auf ExSmokers ).
Whether one can recommend the innovative steam as a beginner equipment, there the spirits divide. Of course, commissioning is not difficult, but do beginners really want to deal with such details as watts, volts, ohms and airflow? You don't have to do that, sure, but of course the steam invites you. If you have all kinds of features and see various displays on the display, you automatically feel motivated to see through these things and want to use them sensibly. In addition – my opinion! – Also the DripTip of these (and other) low ohmic e-cigarettes, which needs getting used to, which differs significantly from the feeling when smoking a pyro. I see the LYNDEN AIR more as a device for advanced steamers, because when I switched to the LYNDEN AIR, I focused on completely different aspects than high-end technical details.
Summary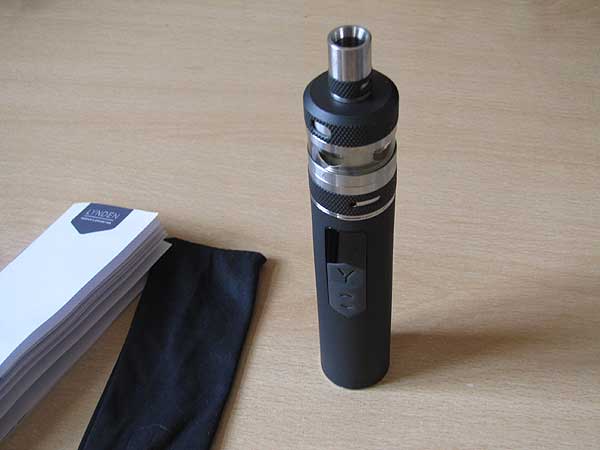 Article Name
Tried it: Lynden Air - a BEQUEM fillable vapour
Description
Once again I had the opportunity to test an interesting new steam: ✓ The LYNDEN AIR - a regulated subohm "steam engine" developed in Berlin. ✓
Author
Publisher Name
Publisher Logo